Peter Mousaferiadis
Founder and CEO, Cultural Infusion

Australia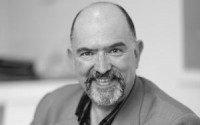 Peter founded Cultural Infusion in 2002, a global social enterprise that works with schools around Australia, youth and communities to promote cultural harmony for a more cohesive and richer society. Cultural Infusion's Discovering Diversity education program (http://culturalinfusion.org.au/schools-programs), which comprises a suite of digital education apps and education programs such as school incursions, all-day programs, and artist-in residencies, reaches more than 350,000 Australian students each year. Discovering Diversity was recognised as a finalist in the 2015 WISE Awards.
In 2015, Peter was appointed as an Associate to the UNESCO Chair for Intercultural and Interreligious Relations, Asia-Pacific, and elected as a board member of the Ethnic Communities' Council of Victoria.
The previous year, Peter was elected as Global Trustee for United Religions Initiative and was presented with the Cultural Revolution Award by the Punjab Government of Pakistan in recognition of 25 years' contribution to cultural diversity through arts and cultural programs.
In February 2013, Peter was invited to Vienna to be presented with the United Nations Intercultural Innovation Award for Cultural Infusion's Sound Infusion project (http://soundinfusion.com.au/). In May of that year, in a collaborative process with the team at Cultural Infusion, Peter developed the winning slogan for the United Nations "Do One Thing for Diversity and Inclusion" campaign. Peter presented the slogan, Diversified We Grow (https://www.youtube.com/watch?v=4t-PlQJj2WI), at the 2013 World Forum on Intercultural Dialogue in Azerbaijan to numerous heads of state, more than 50 directors of national ministries of culture and United Nations Alliance of Civilisations High Representative Mr. Nassir Abdulaziz Al-Nasser.