Ragda Awad
Computer Systems Engineering Student

Palestine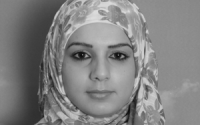 Ragda is a final-year student majoring in Computer Systems Engineering. Ragda was born and raised in Palestine and spent two decades in a very culturally, politically and socially volatile environment, where uncertainty marked every aspect of life, especially in so far as it affects females.
Despite this, Ragda has succeeded in achieving high academic performance and involvement in many social and cultural activities. She is studying one of the most difficult specialties at a highly accredited university. She has also participated in extra-curricular activities such as Code Competitions. 
Ragda has always had a vision and she is still determined to pursue higher education and become one of the very few females in Palestine to hold a Ph.D. in computer engineering. Ragda's goals would never have been achieved without the full support of her family.