Mr. Rakesh Bharti Mittal
Co-Chairman and Life Trustee of Bharti Foundation

India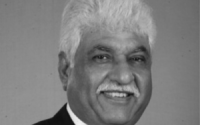 Rakesh Bharti Mittal is the Vice-Chairman and Managing Director of Bharti Enterprises, one of India's leading business groups with interests in telecom, agri-business, financial services, retail, realty, and communication and media devices. Bharti Airtel, a group company, is among the leading global telecom service providers with operations in 20 countries across Asia and Africa. Rakesh is the Chairman of Bharti Infratel, Bharti AXA Life Insurance, Bharti AXA General Insurance, FieldFresh Foods and Beetel Teletech. 
Rakesh has been a member of the National Council of the Confederation of Indian Industry since 1999 and the Chairman of CII National Council on Agriculture since 2009. Rakesh is currently a member of the Governing Body of Indian Council of Agricultural Research, member on the Board of Industrial Finance Corporation of India, and a member of the National Food Processing Development Council, Government of India. 
A passionate advocate of the right to a good education, Rakesh serves on the boards of several educational institutions such as the Executive Board of Indian School of Business and Punjab Education Development Board, and is a member of the "Round Table on School Education" for the Ministry of Human Resources Development, Government of India.  He is the Chairman of the Advisory Council of the Bharti Institute of Public Policy.
Rakesh believes that a responsible corporation has a duty to give back to the community in which it operates. Rakesh is a Life Trustee and the Co- Chairman of Bharti Foundation, which provides free quality education for the underprivileged children in rural India through its flagship Satya Bharti School Program.