Dr. Rana Dajani
Founder and Director, "We Love Reading"; Associate Professor at Hashemite University

Jordan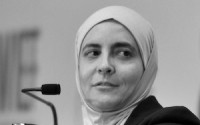 Rana Dajani: Ph.D. in molecular biology, University of Iowa, USA; Eisenhower Fellow a Fulbright alumnus twice, an Associate Professor and former Director of the Center of Sudies at the Hashemite University, Jordan; former visiting Professor at the Yale Stem Cell Center. Her research focuses on genome-wide association studies concerning diabetes and cancer in ethnic populations in Jordan.
Dr. Dajani is a consultant to the Higher Council for Science and Technology in Jordan. She has written in Science and Nature about science and women in the Arab world. She is on the UN Women Civil Society Advisory Group in Jordan. She has established a network for women mentors and mentees and received the PEER Award for the model Three Circles of Alemat. She was chosen as one of the 20 more influential scientists in the Islamic World in 2014 and 13th on the list of the 100 most powerful women in the Arab World, also in 2014.
In the field of education, she has been appointed a Higher Education Reform Expert by the EU-TEMPUS office, Jordan, and an Education Expert Consultant to the Islamic Development Bank in Saudi Arabia, Founder of the Center for Service Mearning at the Hashemite University, advocate of teaching using problem-based learning, novel reading, drama and social media, speaker at TEDxDeadsea and at the World Islamic Economic Forum 2012.
On the broader horizon, Dr. Dajani has developed a community-based model and philosophy, "We Love Reading" (WLR) to encourage children to read for pleasure which received the Synergos award for Arab World Social Innovators 2009, a membership to the Clinton Global Initiative 2010, and a place in the book Innovation in Education: Lessons from Pioneers Around the World, published by Qatar Foundation in 2012. WLR is also one of the 2014 WISE Award Winners.WLR has spread throughout Jordan, the Arab world and internationally, reaching Turkey, Mexico, Thailand, Uganda and Azerbaijan.
Dr. Dajani in the media: Huffington Post, USA Today, Washington Post, Al Jazeera, VOA, Chronicle of Higher Education, The Guardian, The Economist and Reuters.