Saidzhan (Sayid) Abdullaev
Political Science Student, University of Pennsylvania

Kyrgyzstan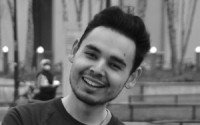 Sayid is a global youth human rights advocate, award winning speaker, and social entrepreneur. At age ten, he founded Youth for Peace, a platform to increase participation of young people in the peace building process. Since its inception the organization has helped to raise over $10 million (US) for social services, directly benefiting over 100K young people around the world.
Sayid is currently the United Religions Initiative Youth Representative to the United Nations and regularly gives speeches at their headquarters in New York City and around the world.  In 2013 he co-founded AsylumConnect – a nonprofit initiative that provides online life-saving resources for asylum seekers in the USA. He has also served as an international trainer for Youth Volunteer Organization Leadership, human rights facilitator for UNESCO, the Chair and youth expert for the UNDP peace keeping mission in Kyrgyzstan, a mentor for the global youth leadership Miracle Corners of the World Program, and OXFAM international youth representative. Sayid has been named a Three Dot Dash Global Teen Leader, One Young World Ambassador, Point Scholar, Hesselbein Global Youth Leader, World Economic Forum Global Shaper, Every Day Young Hero, CSI's Outstanding Senator, and a Vision Scholar.
He was recognized by all five living US presidents, the United Nations, and by Dr. Jane Goodall, among others. He is an alumnus of the Harvard Business School's Venture Management Fellowship and a recent graduate of the University of Pennsylvania where he studied political science and was named as one of the top ten students who are changing the world. Sayid plans on pursuing a career at the nexus of social entrepreneurship, social justice and sustainable development and dreams of becoming the Secretary General of the United Nations one day.