Dr. Sakena Yacoobi
Founder, Afghan Institute of Learning (AIL)

Afghanistan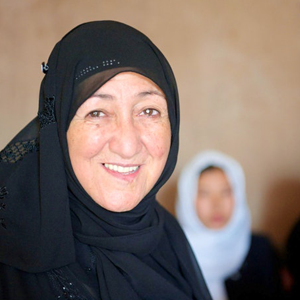 Dr. Sakena Yacoobi is the founder of the Afghan Institute of Learning, the Professor Sakena Yacoobi Private Hospital in Herat, the Professor Sakena Yacoobi Private High Schools in Kabul and Herat, Afghanistan and the radio station, Meraj in Herat Province, Afghanistan.
Dr. Yacoobi is Executive Director of the Afghan Institute of Learning (AIL), an Afghan women-led NGO she founded in 1995. The organization was established to provide teacher training to Afghan women, to support education for boys and girls, and to provide health education to women and children. 
Under Dr. Yacoobi's leadership, AIL has established itself as a groundbreaking, visionary organization which works at the grassroots level and empowers women and communities to find ways to bring education and health services to rural and poor urban girls, women and other poor and disenfranchised Afghans. AIL was the first organization to offer human rights and leadership training to Afghan women and supported 80 underground home schools for 3,000 girls in Afghanistan after the Taliban closed girls' schools in the 1990s. AIL was also the first organization that opened Learning Centers for Afghan women—a concept now adopted by many organizations throughout Afghanistan. Recently, AIL opened a Legal Clinic to provide free legal services to poor Afghan women and has been hosting large scale peace conferences around Afghanistan, which use the poetry of the Afghan poet Rumi to teach lessons of justice, human rights, good citizenship and living harmoniously.
Using grassroots strategies and a holistic approach, AIL now serves hundreds of thousands of women and children each year through its training programs, Learning Centers, schools and clinics in both Afghanistan and Pakistan. Since 1996, 12 million Afghans have benefited from AIL's education and health programs.
Dr. Sakena Yacoobi and AIL have received international recognition for their efforts on behalf of Afghan women and children. Amongst numerous other prizes, Dr. Yacoobi has received the 2003 Peacemakers in Action Award of the Tanenbaum Center for Inter-religious Understanding, the Democracy Award from the National Endowment for Democracy, and the Skoll Award for Social Entrepreneurship. In 2005, Dr. Yacoobi was among the 1,000 women nominated to jointly receive the Nobel Peace Prize. In January 2007, Dr. Sakena Yacoobi was inducted as a Senior Ashoka Fellow, making her the first Ashoka Fellow from Afghanistan, and in 2010, she was named the Asia Social Entrepreneur of the Year Award by the Schwab foundation. In 2011, Dr. Sakena Yacoobi was also awarded the Afghan National Peace Award. 
In 2013, Dr. Yacoobi was honored with the prestigious Opus Prize, which is awarded to social entrepreneurs of any faith who are solving the world's most pressing problems. 
Dr. Sakena Yacoobi has been instrumental in carrying the voice of Afghan women to the world and focusing attention on the urgent need for women's rights, education and healthcare in Afghanistan.