Shaima Ziara
Student, Islamic University of Gaza

Palestine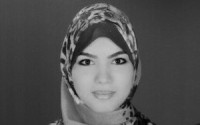 Shaima' is in her senior year studying English Literature at the Islamic University of Gaza. She has been passionate about languages since she was a child and knows Arabic, English, and French. As an active member in her faculty, Shaima' participated in many local and international conferences, discussing various matters. She also works as a freelance translator.
Shaima' is a member of the Advocacy Team in her university. This gives her the chance to speak up for the rights of her people and to show the reality of their lives through conferences and debates.
As a Palestinian living in Gaza, Shaima' took it upon herself to show the world the conditions her country is going through. She became a social media activist and has worked hard to convey an accurate image of her country.
Shaima' is an alumna and member of the U.S. government programs run by the U.S. Consulate office in Gaza. She was chosen to join programs like Access, the Abraham Lincoln Program, and Youth Leaders Rise, concerned with leadership, entrepreneurship, management and planning skills.
She has participated in several voluntary activities such as being a mentor for children, teaching them the English language, art, and creativity skills. She has also participated in activities for disabled children and helped raise awareness of their rights and conditions. Shaima' believes she can be a part of the change she wants for her country.