Stephen Daniel
Development Student, Uganda Christian University

Uganda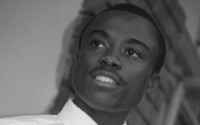 Stephen is a transformation strategist with passion for service to God, Africa's development and humanity. Born in Nigeria, raised in Cameroon, Ivory Coast and Ghana, he moved to Uganda in 2012 where his is currently a degree candidate in Development Studies, at Uganda Christian University.
He is a development strategist, researcher, entrepreneur, activist, philanthropist and aims to transform Africa to a first-world continent by 2030, where every human has equal opportunity to maximize their potential. He was nicknamed "Doctor Progress" for the creation of a poultry farm that finances computer literacy. Has founded and co-founded several organizations, including Leaders Club, Society for Child's Educational Development, GREEN UCU, Worldwide progress and Progress Farms. In 2014, he was nominated as a fellow, Plant for the Planet as part of the World Merit Fellowship program where he is co-creating an educational program on climate change, in 2015 nominated for the International Literacy Association 30 under 30 list as co-founder of a project tilted street2school that is offering education to street children and orphans in rural communities.
Until recently, he was the curator, Kampala Hub Uganda, Global Shapers Community, World Economic Forum. His interest is in development and sustainability with a focus on education and agriculture.