Talal Al Naama
International Relations Student

Qatar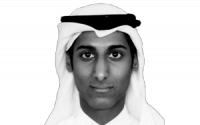 Talal is a sophomore at Georgetown University School of Foreign Service in Qatar and is pursuing an International Relations major. He was born and raised in Doha, and loves to play sports such as tennis and basketball. 
In addition to sports, Talal enjoys debating politics and current affairs. He is keen on understanding politics and its relations with sport, economics, culture and environmental issues. While pursuing his International Relations major, Talal had the opportunity to travel around the world, and he appreciated the different cultures and people he met along the way. As a member of the Georgetown community, Talal was elected class representative of the Class of 2015, and has developed an understanding of how student-administration relations operate. 
After graduating, Talal hopes to work in the Foreign Service sector of his country, because he would feel proud to serve his country wherever it needs him. Talal is very excited about taking part in the Learners' Voice program, and intends make the most out of this experience.