Tibisay Sankatsing Nava
Project Manager, Universe Awareness

Aruba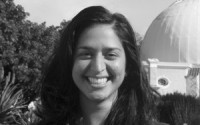 Tibisay is a science communicator working in astronomy education and science for development. Originally from Aruba, she studied Liberal Arts & Sciences at University College Utrecht in the Netherlands and has a master's degree in Arts & Culture and in Science Communication from Leiden University.
Passionate about education on a global scale, she is particularly interested in educational programmes that focus on underprivileged children and youth. In the past year, Tibisay has spent her time working in the Netherlands, South Africa and Aruba. She has developed educational material, spearheaded communication strategies, and managed a large-scale international educational programme.
She is the project manager of Universe Awareness, a global programme coordinated by Leiden Observatory that aims to educate, inspire and broaden the minds of young children using astronomy. In South Africa, she also works on development projects with the International Astronomical Union's Office of Astronomy for Development.