Trang Hoang
Project Manager, Thu Quan Doanh Nhan

Vietnam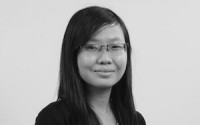 Trang Hoang's dream has always been to make a sustainable improvement in the lives of communities by connecting people and developing innovative educational solutions with them.
Since 2012, Trang has spearheaded her original community project named Sun, the concept for which revolves around helping kids with disabilities to break through the communication barrier with the surrounding environment via psychological therapies. This project has linked her passion back to her own early primary school years when she withdrew into her own shell due to stuttering. Her mother, who was then an English teacher, spent many long hours helping her with speech therapy. 
In 2013, she was selected to participate in the highly selective Sarus Exchange Program, a six-month intensive peace-building and leadership training program for students showing the highest leadership potential from Cambodia and Vietnam. The program involves young people from conflict-torn regions working with their corresponding peers to apply best practices to reduce conflict and generate hope. 
Trang is now a Project Manager at Thu Quan Doanh Nhan – a budding social enterprise in her country. She is keen to acquire her Master's degree in Social Entrepreneurship in the U.S. in the next three years and is working in the educational field, specifically on re-inventing the educational approach, which she believes can then generate a ripple effect across generations. The experience and trainings Trang would get from the WISE Learners' Program would help bring her critical thinking skills to the next level and allow her to be an even more significant change-maker in her community and country.