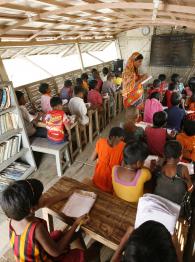 About the Project
This project is one of the 2012 WISE Awards winners.
The non-profit organization Shidhulai Swanirvar Sangstha introduced solar-powered floating schools in Bangladesh to ensure children's uninterrupted education even during the height of the monsoon. In addition to 'Transforming Education', the initiative was judged to have best provided innovative financing of primary education. 
From the outset, the guiding principle was that if children cannot come to school, then school should come to them. The floating school is a combination of school bus and schoolhouse. The boats collect students from riverside villages, dock at a final destination and provide on-board small-group instruction. After class, the boats take students back to their homes and then go on to pick up other groups. Each boat school has a classroom for 30 students, an Internet-linked laptop, a library and electronic resources, and provides basic primary education up to grade IV. 
The laptop in the classroom encourages students to learn about new technology, check emails, and visit online educational websites. The solar lighting makes the school schedule flexible, and after school many students take home a recharged, low-cost solar lantern. The lanterns provide light at night by which children can study and women can stitch quilts to earn extra income.  In the evening, the boats project educational programs onto large sail cloths which people can watch from their own courtyards.
The project is funded from multiple sources, including crops, fisheries and the conversion of kerosene lanterns into solar-powered lanterns. The initiative has helped develop solar water farming to safeguard food supplies and ensure a year-round income for families in flood prone areas, as a result of which the nutritional and health status of children has improved.
Parents and villagers also receive on-board training on children's and women's rights, nutrition, health and hygiene, sustainable farming, marketing systems and climate-change adaptation, for example, the planting of flood-resistant rice and sugarcane varieties.  
Almost 70,000 children have benefited since the start of the project in 2002. 
May 26, 2012 (last update 12-03-2019)