H.E. Prof. Sheikha Abdulla Al-Misnad
President of Qatar University

Qatar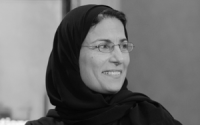 Professor Sheikha Abdulla Al-Misnad is Qatar University's fifth President and one of Qatar's leading educators and a partner in many initiatives toward the fulfillment of national development strategies.
A distinguished alumnus of Qatar University, Prof. Al-Misnad is a champion of education and life-long learning.  She earned a BA in Education followed by a Diploma in Education in 1978 at QU.  She received her Ph.D. in Education from Durham University, UK with a thesis entitled "The Development of Modern Education in the Gulf States with Special Reference to Women's Education" which was published by Ithaca Press, London in 1985.
Before assuming the presidency of QU in 2003, Prof. Al-Misnad served in several positions in teaching, administration, and research, including Vice President for Research and Community Development at QU (2000-2003) and Head of the Department of Foundations of Education (1992-1995).  She also served as a member of the University Council (1986-1989 and 1998-2004).   
Since her appointment in 2003 Prof. Al-Misnad has made substantial contributions to academic reform at QU and within the education system in Qatar.  She has guided substantial academic reforms in curriculum and programs, and in administrative structure and functions at QU, making incremental changes in line with the needs of the community and the vision of the country's leadership.  Under her leadership, the university achieved international accreditation for a wide range of Masters and doctoral-level graduate programs featuring subjects of critical importance to Qatar and the region.  She presides over the steady progress of efforts to establish the university as a regional leader in research.
Prof. Al-Misnad is a actively involved with the Supreme Education Council's ongoing national initiative to reform primary, secondary, and private education, with a strong focus on enhancing the skills and capabilities of teachers in the independent schools, especially in Math, Science, and Arabic.  
As a member of the Board of Directors of Qatar Foundation for Education Science and Community Development since 1999, she has had a key role in the governance and leadership of the educational institutions comprising Education City. 
In recognition of her ongoing distinguished contributions to the educational sector nation-wide, Professor Al-Misnad was granted a rank of Minister by Amiri decree in 2010. 
Prof. Al-Misnad has received a number of distinguished awards and is a member of several prestigious bodies.  In 2013 she was awarded an honorary Doctor of Laws from Dalhousie University, Canada; in 2011 she received the Woman in Education Service Excellence Award in the 10th Middle East Women Leaders Awards; and in 2008 she received an honorary doctorate in Civil Law from Durham University in recognition of her "outstanding achievements in the field of education".  
In 2010 she was appointed a member of the Board of Trustees of the American University of Cairo. She became a member of the Asian University for Women International Council of Advisors in 2009. She has served as a member of the United Nations University Council since 2004.
Prof. Al-Misnad has written more than 50 articles published in professional journals and presented at leading conferences and seminars at the local, regional and international levels and has led many high-level delegations to academic events at home and abroad.
In addition to her commitment to formal education, Prof. Al-Misnad is dedicated to volunteerism and community service as a way of giving back to one's community and inspiring QU and high-school students to solve real-world problems in their community and beyond.