Akshay Chaturvedi
Founder & CEO, Leverage Edu

India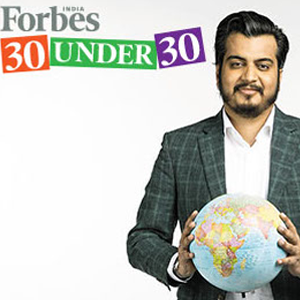 Akshay is the creator and driving force behind one of India's fastest growing startups LeverageEdu – which empowers students across India to choose the best-matched career & higher education options, with one-touch access to personalised mentors and leading global universities. 
The company initially began as a higher education mentorship marketplace in Silicon Valley's Draper University's 2015 cohort, & formally launched in early 2017. Leverage Edu's technology-powered higher education & career guidance ecosystem includes a full stack service, using AI to help students work with best-matched mentors from around the world in personalized career workshops. It's product suite includes the LeverageEdu information platform that gets over a million unique users every month, Univalley – which helps Universities with a host of student engagement solutions & gives students access to vetted programs, UniConnect – world's leading online education fair platform that helps 100+ universities and students connect with each other to find best matched higher education options in a virtual setting, & LeverageLive – which is democratising access to best teachers in a live classes format for GMAT, GRE, SAT, IELTS & TOEFL exams. 
As Leverage Edu's Founder & CEO, Akshay leads a spirited 100 people+ team spread across 5 cities Delhi, Bangalore, Bombay, Hyderabad & Ahmedabad, with its HQ in Defence Colony, New Delhi. Fellow of Draper University in Silicon Valley, MBA from ISB Hyderabad & a commerce graduate from SGGSCC, Delhi University, Akshay has worked across multiple spokes of the business/tech ecosystem in the last decade. He has strong views on democratization of education, careers and mentorship, and is missionary about being able to transform millions of families' lives by doing that.