Aldo Arce
Executive Director

Mexico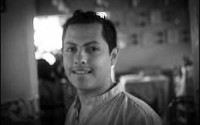 Aldo Arce is a young social entrepreneur who is bringing innovation to education.
Aldo Arce was born in 1987 in Mexico City. He holds a degree in Communications and was a postgraduate student in Education Studies of Youth at FLACSO University in Buenos Aires, Argentina. In his early 20s Aldo decided to honor his indigenous roots by founding Puerta Joven, a youth-led nonprofit organization that works to promote intercultural education to ensure that young indigenous people are not excluded from opportunities because of their cultural identity. 
He has established youth programs for cultural expression and digital literacy with an innovative approach that recognizes what it means to be young today, using the arts in tandem with new technologies to improve basic education and access to technology. The programs started in Mexico City and expanded to more than ten cities and three countries in Latin America thanks to their proven social impact and success in preventing drop-out. 
As a young social innovator he had to overcome all the stereotypes challenges to launching and managing a successful social enterprise because of his age and cultural background. By 2012 his social innovations had earned him such a reputation that he was invited to work in New York for environmental education organizations, designing initiatives to improve environmental education and the social inclusion of Latin-American communities in the United States.
Now back home, he is expanding his educational programs to Central and South America. He believes that education has the power to transform talent into successful leadership.