Ms Alice P. Albright
Chief Executive Officer of Global Partnership for Education

United States of America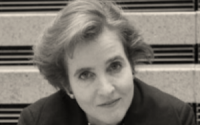 Ms. Alice P. Albright is the Chief Executive Officer at the Global Partnership for Education, 
 the only multilateral partnership that unites donor countries, developing countries, civil society organizations, teacher groups and the private sector to improve global access to education and improve its quality.
She arrived to GPE with over 27 years of international experience that spans the private, non-profit, and public sectors. From July 2009 until January 2013, she served in the Obama Administration as the Executive Vice President & Chief Operating Officer of the Export-Import Bank of the United States (Ex-Im Bank). 
While in that position, she led a significant expansion of Ex-Im operations in response to the financial and economic crises. Ms. Albright also launched a number of initiatives to modernize Ex-Im and extend its reach to underserved businesses and markets. 
Her previous experience includes serving as the Chief Financial and Investment Officer for the Global Alliance for Vaccines and Immunizations (GAVI) from 2001 to 2009 and from 2003, as the head of GAVI's Washington, DC office. Working closely with GAVI's partners, many which are also involved with the Global Partnership for Education, she developed and implemented the strategy that transformed GAVI from a start-up to one of the most successful and respected public-private partnerships working in international development. Ms. Albright led GAVI's innovative finance program which enhanced the delivery and financing of vaccines and immunization services in the world's poorest countries. From 1985 to 2001, Ms. Albright worked as a banker with a focus on emerging markets and held positions at the Carlyle Group, JP Morgan, Bankers Trust Company and Citicorp.