Ms Asni Mekonnen
Senior Program Officer of World University Service of Canada

Ethiopia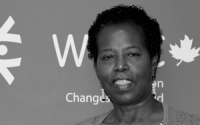 Asni Mekonnen, Senior Program Officer, Student Refugee Program (SRP), has over 20 years of International Development experience. Asni has held several progressive positions at the World University Service of Canada (WUSC) since 1988 and her passion and dedication towards the SRP has been vital to the success of the program. 
Asni obtained her education and began her career in Ethiopia where she completed a Bachelor of Arts degree and numerous professional diplomas. She was Administrative Assistant to the Dean of the Faculty of Education at Addis Ababa University, Ethiopia (1981-1983), and then worked at WUSC, Ethiopia (1983-1985). Asni was also Program Adminstrator for OXFAM US (1985-1988).
Asni has been Senior Program Officer, Student Sponsorship Program, since March 2004. She has contributed towards the growth and expansion of the program. Asni has done much to help our partners in the camps to better prepare students for their new life in Canada.
Asni is also active as a volunteer in the community. She has served as Chair and long-term member of the Refugee Assistant Committee of Ottawa Mennonite Church and been a Steering Committee Member for the Horn of Africa Policy Group in Ottawa. Asni has served as an Executive Committee member for the Ethio-Canadian Community Association, a Steering Committee member for the AIDS Orphans Sponsorship Group, an instructor of Amharic Language for Ethiopian Children in Ottawa and member of the Board of Directors for The Solomon Dawit Foundation since 2010.To be completed.
WISE AWARDS