Aurora Chisté
Managing director, Orb Intelligence Africa

Ghana, United States of America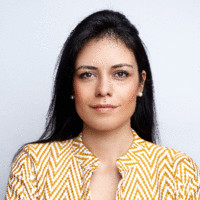 Aurora is the Managing Director of Orb Africa. Orb is a San Francisco based firmographic database of 50M businesses. She became inspired by how Orb' s data has boosted the growth of Fortune 500 companies. She has taken that inspiration to explore how the same data infrastructure can play a key role in Africa by facilitating internal trade, make governments accountable, and strengthening Africa's inclusion in the global economy.
Aurora's passion for building sustainable economies through innovation finds roots in Silicon Valley. In 2013, she founded Hack for Big Choices, a global movement using entrepreneurship to solve key issues that are blocking a country's development. She has worked in Mexico, Colombia, Santo Domingo, and Ghana, where, in February 2015, she organized the largest hackathon ever to be held on the continent of Africa. 
Aurora's equal passion for design led her to found Maakola, a luxury and sustainable fashion brand. Maakola is using design as a tool to change society by showing different economic, environmental, and cultural perspectives through fashion. Maakola's creations make women feel good thanks to design that captures femininity, leadership, and comfort, but also takes into account the social and environmental impact that every garment has in the world.