Chimamanda Adichie
Writer

Nigeria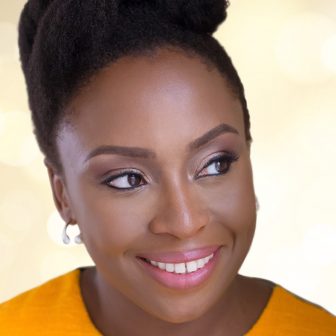 Nigerian writer Chimamanda Adichie grew up on the campus of the University of Nigeria, Nsukka, and left Nigeria to study in the U.S. at the age of 19.
Among her many accolades, Ms. Adichie has been awarded a Hodder fellowship at Princeton University (2005-2006), and a fellowship at the Radcliffe Institute of Harvard University (2011-2012). In 2008, Ms. Adichie earned a coveted MacArthur Genius Award.
Ms. Adichie's work has been translated into over thirty languages. Her first novel Purple Hibiscus (2003) won the Commonwealth Writers' Prize, and her second novel, Half of a Yellow Sun (2006), won the Orange Prize (now the Bailey's Women's Prize). Her 2013 novel Americanah received the US National Book Critics Circle Award and was named one of The New York Times Top Ten Best Books of the Year.
Ms. Adichie has been invited to speak around the world. Most notably her 2009 TED Talk, The Danger of A Single Story, is now one of the top ten most-viewed TED Talks of all time, with over five million views. Her 2012 TED talk, We Should All Be Feminists, has a started a worldwide conversation about feminism, and was published as a book in 2014.
Her most recent book, Dear Ijeawele, or a Feminist Manifesto in Fifteen Suggestions, was published in March 2017.
Ms. Adichie is committed to assisting young aspiring writers. As one of her commitments, she leads an annual Writers Workshop in Nigeria, for which applications come from around the world.