Danilo Padilla
Education Programme Specialist, UNESCO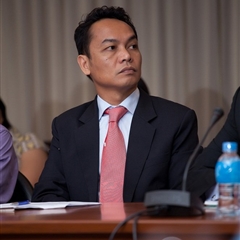 Mr. Danilo Padilla was appointed Education Programme Specialist, UNESCO Office for the Gulf States and Yemen in October 2019.
In this capacity, he leads and supervises the Office's Education team, promotes UNESCO's Education Programme within the GCC and Yemen through the planning, implementation and monitoring of activities and projects aimed at responding to strategic needs of Member States in the Gulf States.
Prior to his appointment in Doha, Mr. Padilla was Chief of Education Unit at the UNESCO Office in Afghanistan (July 2015 to September 2019) where he led a team of 20 international and national staff members and managed programmes (adult literacy and curriculum reform) with a budget of more than USD 30 million.
From 2000 to 2014, he served in various positions at the UNESCO Headquarters in Paris and UNESCO Regional Office in Bangkok. 
Before joining the UNESCO, Mr. Padilla worked with United Technologies (European Headquarters, Paris, France) and the Department of Foreign Affairs (Manila, Philippines).
Mr. Padilla holds Master's Degree in International Relations and Diplomacy from the American Graduate School of International Relations and Diplomacy in Paris, France.