Dr. Eduardo José Padrón
President of the Miami Dade College

United States of America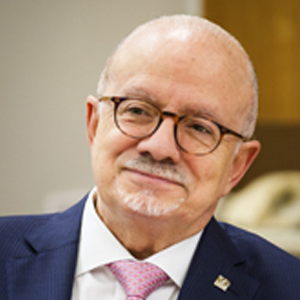 An American by choice, Eduardo J. Padrón arrived in the United States as a teenage refugee in 1961. Since 1995, he has served as President of Miami Dade College (MDC), the largest institution of higher education in the United States with more than 165,000 students. He is credited with elevating MDC into a position of national prominence among the best and most recognized U.S. colleges and universities. An economist by training, Dr. Padrón earned his PhD from the University of Florida.  
 
In 2016, President Barack Obama bestowed upon him the Presidential Medal of Freedom, the highest civilian honor in the United States. In 2009, TIME magazine included him on the list of "The 10 Best College Presidents." In 2010, Florida Trend magazine named him "Floridian of the Year." In 2011, The Washington Post named him one of the eight most influential college presidents in the U.S.  Also in 2011, he was awarded the prestigious Carnegie Corporation Centennial Academic Leadership Award. More recently, he received the Citizen Service Award from Voices for National Service and the Aspen Institute Ascend Fellowship.
 
President Padrón's energetic leadership extends to many of the nation's leading organizations. He is the past chair of the board of directors of the American Council on Education (ACE) and of the board of the Association of American Colleges and Universities (AAC&U). He serves on the boards of the Council on Foreign Relations, Achieving the Dream, Inc., and is the chairman of the Business-Higher Education Forum. He has been appointed to key national posts by six U.S. Presidents.  He is a prolific writer and has received  over 15 honorary doctorates.