Madam Ellen Johnson Sirleaf
President, Liberia

Liberia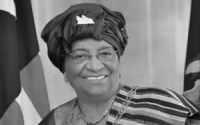 Madam Ellen Johnson Sirleaf is the 24th President of Liberia and Africa's first democratically elected female Head of State; is serving her second term as President after winning the 2011 presidential election. She's one of the three who won the Nobel Peace Prize Laureate in 2011. Madam Sirleaf has throughout her career demonstrated passionate commitment to hard work, integrity, good governance and has been advocating for the rights of women and the importance of education to provide a better future for her country and its people.
After decades of fighting for freedom, justice and equality in Liberia, President Ellen Johnson Sirleaf has spent more than nine years rebuilding post-conflict Liberia. She has revived national hope by strengthening the institutions of national security and good governance, leading the revitalization of the national economy and infrastructure, including the construction of more than 800 miles of roads, and restoring Liberia's international reputation and credibility.
President Johnson Sirleaf is Chairperson of the African Leaders Malaria Alliance; having succeeded the founding Chair, Tanzanian President Jakaya Kikwete in January 2012. ALMA is an alliance of African Heads of State and Government working to end malaria-related deaths. She served as Chairperson of the Mano River Union where she leads the effort for political stability and economic cooperation among Sierra Leone, Guinea, Liberia and Côte d'Ivoire.
The Liberian leader is also Goodwill Ambassador for Water, Sanitation and Hygiene (WASH) in Africa. She was a founding member of the International Institute for Women in Political Leadership; was designated in 1999 by the Organization of African Unity (OAU) (now African Union) to serve on the committee to investigate the Rwanda genocide; was a Commission Chair for the Inter-Congolese Dialogue; and was selected by UNIFEM as one of two persons to investigate and report on the effect of conflict on women and women's roles in peace-building.
Prior to her ascendancy to the Presidency, Madam Ellen Johnson Sirleaf served on many advisory boards, including the International Crisis Group (USA) and Women Waging Peace (USA). She is also a proud recipient of numerous prestigious awards including: the FAO CERES Medal (2008); the Crisis Group Fred Cuny Award for the Prevention of Deadly Crisis (2008) for outstanding leadership in democracy, development and peace-building in Africa; and the Presidential Medal of Freedom (2007), the highest civilian honor bestowed by an American President.
President Sirleaf has been recognized amid numerous honors such as 14 honorary degrees from American colleges and universities. In 2010, Newsweek magazine listed Johnson Sirleaf as one of the ten best leaders in the world; Time placed her among the top ten female leaders; and the Economist called her "the best President the country has ever had."
Photo Credit: Emansion