Ms Fadimata Alainchar
Country Director, Plan International

Ghana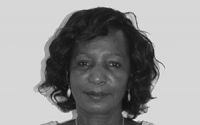 Fadimata Alainchar has dedicated her career to development and humanitarian work focusing primarily on education, child protection and gender. After many years of work both in the field and at a national level as a Teacher and Informal Education Specialist, she joined Plan International in 1994 to implement an informal education program for out-of-school children in Mali. Following this, she worked with UNHCR in 1997 as a Community Services Officer in Guinea supporting refugees from Sierra Leone and Liberia.
In 2000, she returned to Plan International as Regional Learning Advisor for the regional West Africa office. In this role, she established partnerships at both regional and global levels, allowing Plan International to connect with key actors across West Africa in the field of education and to establish partnerships with key actors, such as FAWE, for greater equality in access and quality of education, particularly for girls.
In 2004 Fadimata moved to Plan International's Niger office as Program Support Manager, where she introduced the village savings and loans (VSLA) approach to programming focused on women's social and economic empowerment for the first time in the region.
From Niger, Fadimata joined Sierra Leone as Country Director in 2006 where she pioneered the youth VSLA program with a focus on girls' entrepreneurship, before becoming Country Director of Guinea Bissau in 2010, where she established partnerships with UN agencies, civil society and women organizations to oppose female genital mutilation.
In Mali, Fadimata's focus was on children affected by the complex crisis in the north, while advocating for behavior change around traditional harmful practices in the south to work towards communities free of child marriage and female genital mutilation.
On July 1st 2016 she was appointed as the Country Director for Plan International in Ghana. Fadimata is a co-founder of the Malian NGO, Association Research-Action Women and Development, active since 1991. She holds a diploma from the Pedagogic Institute for General Education and has a master's degree from Ecole Normale Superieure de Bamako.