Farah Mallah
Fellow, Teach for Qatar

Jordan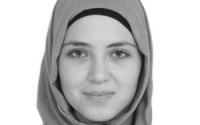 Farah's strong interest in economic and social development in the Middle East has led her to focus her studies and work on poverty eradication and education development. Driven by the belief that at the heart of most, if not all, issues is unequal access to opportunities.
Farah recently graduated from Georgetown University, School of Foreign Service in Qatar with a Bsfs in International Economics. During her time at university, she was involved in ending the marginalization of low-income laborers on campus by joining the Hoya Empowerment and Learning Program (HELP). HELP initially began with the aim of teaching English to low-income migrant workers. She joined in its early stage and later became president, expanding the program to include previously excluded migrant workers (security guards). As well as increasing the number of volunteers from four to more than twenty. In addition, she led the development of the English curriculum for the basic and beginner level classes. Which incorporated computer and financial literacy and was tailored to meet the needs and interests of the HELP learners.
Today, Farah is a Teach for Qatar fellow working on further understanding and contributing to the educational system, as well as the public sector in general. She hopes to one day occupy a position from which she can correctly identify development barriers and implement policies to improve welfare best tailored to a country's context.