Dr. Frannie Léautier
Partner and Chief Executive Officer of Mkoba Private Equity of African Capacity Building Foundation

Tanzania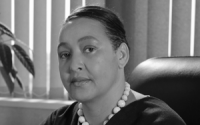 Dr. Frannie Léautier is Partner and Chief Executive Officer of Mkoba Private Equity, a fund created to support small and medium enterprises in Africa.  Previously, she was Executive Secretary of the African Capacity Building Foundation (ACBF).  Dr. Léautier has had a varied career in the private sector and in international development having served as Vice President of the World Bank and Head of the World Bank Institute (2001-2007).  She served as Chief of Staff to the President of the World Bank (2000-2001).  In 2007, she founded the Fezembat Group, a company focused on risk management and leadership development, serving as its Managing Partner until 2009.  Dr. Léautier was recently listed among the 100 most influential people in Africa.  In 2013 she was honored with the title of Nkosuohemaa –Queen of Development– of the Agona Traditional Area in Ghana. 
 
Dr. Léautier  has published widely and sits on several boards including the Advisory Board for MIT Open Course Ware. She is also a member of the MIT Corporation visiting committee for Civil and Environmental Engineering.  She is a board member of the Nelson Mandela Institute for Science and Technology in Africa (founding member), the Africa Institute for Governing with Integrity (founding member), and of UONGOZI, a leadership institute in Tanzania. She is member of the WISE-Haiti Task Force, established by Qatar Foundation to assist in rebuilding Haiti's education sector.
 
Dr. Léautier was the Co-chair for the World Economic Forum Africa 2013 and Vice Chair for the Global Agenda Council on Youth Unemployment in 2014.  She is also a member of the Knowledge Advisory Commission of the World Bank.
 
Dr. Léautier holds a BS degree in Civil Engineering from the University of Dar es Salaam, an MS degree in Transportation from MIT, and a PhD in Infrastructure Systems from MIT. She is a graduate of the Harvard University Executive Development Program.  In 2013 she received an Honorary Doctorate in Humane Letters from North Central College in Naperville, IL (USA) in recognition of her contribution to Africa's development.  Since 2007 she has taught a course on leadership at Sciences Po, Paris.