Frederic Gateretse-Ngoga
Ambassador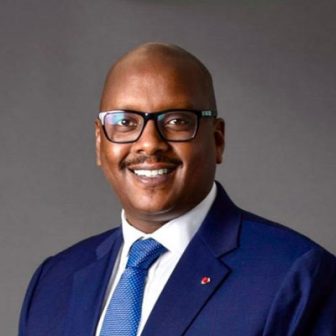 Ambassador Frederic Gateretse-Ngoga, Is the focal point for partnerships, the AU Border Program and regional security mechanisms in the office of the Commissioner for Political Affairs and Peace and Security of the African Union Commission.

He served previously under the old AU Commission structure as the Head of the Conflict Prevention and Early Warning Division at the African Union Commission. Prior to joining the division he served as a senior officer with the African Union Mission in Somalia (AMISOM) where he assisted operational teams from the Military, Civilian and Police components to provide support on Counter Terrorism and in the planning of military operations in line with AMISOM's mandate.

Ambassador Ngoga holds a Master in Public Administration. He also received numerous professional trainings on peacekeeping and international security with the African Centre for the Research and Study on Terrorism in Algeria (ACSRT) and with the British Army's Defence Intelligence and Security Centre (DISC) in Chicksands, United Kingdom. He also received training in the Defense against Terrorism from NATO and climate sensitive programming for sustaining peace from the UN. He is also a board member of the UNDP Preventing and Responding to Violent Extremism in Africa project.

He was conferred on 16 April 2014, the rank of Ambassador Extraordinary and Plenipotentiary of the Republic of Burundi.