Mr. George Onyango
Deputy Director of Slums Information Development & Resource Center (SIDAREC)

Kenya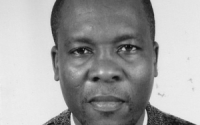 Mr. Onyango is a Deputy Director with Slums Information Development & Resource Centers (SIDAREC), an organization he has been part of since its formation 14 years ago. 
He holds a certificate in Nonprofit Management from Johns Hopkins University, Institute for Policy Studies, Center for Civil Society Studies, a diploma in Computer Science from the Inoorero University, and a certificate in Executive Business Development from Wharton Business School, University of Pennsylvania. 
George is a correspondent for the Health and Development Network, writing on HIV/AIDS issues around the world. He was an online editor with TakingITGlobal from 2006-2009.
George has received several honors. They include: 
Commonwealth Professional Fellowship (2010)
International YouthActionNet Fellow (2002)
Fellowship with Johns Hopkins University, Institute for Policy Studies, Center for Civil Society Studies (2004-2005)
Jury member for the Global Young Social Entrepreneurs' Competition
Jury for YouthActionNet Fellowship (2004)
Finalist in the Acumen Fund Fellowship Program (2007)
He is a former Global Knowledge Partnership Ambassador (2007)