Mr. Jeremy Lachal
Director, Library Without Borders

France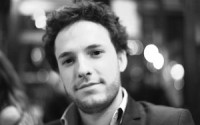 Jeremy Lachal, Executive Director and Co-founder of Libraries Without Borders / Bibliothèques Sans Frontières.
After earning a Master's degree in International Affairs from Sciences Po Paris (Paris Institute of Political Studies), Jérémy Lachal co-founded Libraries Without Borders / Bibliothèques Sans Frontières in 2007 alongside French Historian Patrick Weil. As its Executive Director, he has been leading the NGO that has become one of the main organizations supporting libraries and access to information throughout the world (300 libraries created or supported in 20 countries, with 60 staff and close to 1000 volunteers around the world) and whose international network has grown to include the United States, Canada, Belgium and Switzerland.
He is passionate about the use of new technologies in the education process, as well as for the creation and dissemination of information. He is equally involved in the development of economically sustainable and autonomous cultural and educational programs.
In 2012, Jérémy Lachal joined IFLA's (International Federation of Library Associations) international leadership program and has since been participating in the development of strategies for the promotion of libraries and information sharing. Jeremy was named an Ashoka Fellow in 2015.