Huda Almzainy
Student, Al Fakhoora Alumni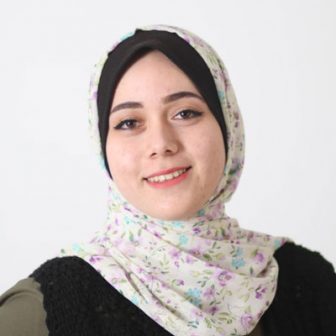 Huda is a holder of a bachelor degree in English-French Literature from Al-Azhar University of Gaza. She stood out with her high intellectuality and
graduated with a first-honour degree. Over the past years, she participated in abundant training courses and leadership programmes. Her experience heavily relies on training, translation, content writing, community service, and teaching.
In 2014, she received the English Access Micro-Scholarship Programme funded by the U.S. Department of State and administered by AMIDEAST – Gaza. During her attendance, she engaged in a two-year programme focused on the English language, U.S. history, U.S. culture, community service, public speaking, and international days.
Huda is also an active alumna of Al Fakhoora Dynamic Futures Programme as she demonstrates commitment and excitement about joining activities and meeting new alumni. In 2020, she participated in the Rethinking Higher Education digital conference preceded by her active role in Inspire Conference 2020.