Jacinta Bailey
Research and Community Projects Manager, Tranby National Indigenous Adult Education & Training

Australia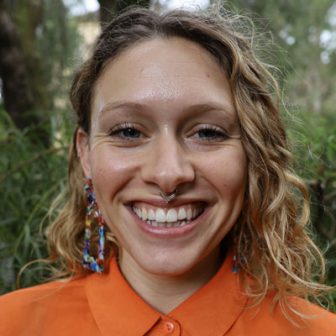 Jacinta is a lifelong learner and an education advocate, passionate about transforming learning systems through decolonisation frameworks and Indigenous pedagogies. As a non-Indigenous woman, Jacinta has spent the past 7 years working with Indigenous communities, both in Australia and Ecuador, strengthening her knowledge of community-led development. As a dynamic communicator and a tenacious spirit, Jacinta thrives working alongside communities to develop and deliver grassroots solutions to global challenges.
In her role at Tranby, she manages the collaborative development and implementation of innovative educational programs that are culturally meaningful and responsive to the Indigenous Communities' diverse needs. Tranby is Australia's oldest Indigenous-led education provider and an important place of social action. This experience has strengthened Jacinta's resolve for collective leadership as an integral tool to overcome pressing global challenges.
A naturally curious person and an avid traveller, Jacinta has lived abroad in Spain and Latin America. In 2016, working with the Achuar community of Kuserua, she established a Spanish language school in the Amazon Rainforest of Ecuador. The community-controlled school uses a two-way philosophy, teaching language through Indigenous ways of being, doing and knowing.
Jacinta also sits on the board of Voices of Influence Australia, which nurtures her passion for youth leadership. Voices of Influence is a youth-led human rights organisation that connects, inspires and empowers young people to be active allies in their communities, strengthening and encouraging young people's leadership for our future.