Prof. James Tooley
Non-Executive Chairman of the Board of Omega Schools Franchise Ltd.

United Kingdom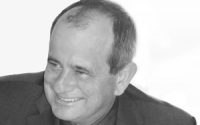 Professor James Tooley, Director of the E. G. West Centre at Newcastle University, is renowned for his work on low-cost private education in developing countries. He is the author of The Beautiful Tree (Penguin, New Delhi), a bestseller in India and winner of the Sir Antony Fisher Memorial Prize. This work built on his groundbreaking research on private education for the poor in India, China and Africa, for which he was awarded gold prize in the first International Finance Corporation/Financial Times Private Sector Development Competition. His research has featured in an American PBS documentary where it was profiled alongside the work of Nobel Laureate Mohammed Yunus and Hernando de Soto. It also featured in documentaries for BBC World and BBC Newsnight. 
Following on from his research, Tooley has dedicated himself to creating and improving working models of innovative practice in low-cost private education to help demonstrate its efficacy and potential to extend access and improve educational opportunities for the poor.  He is Co-Founder and Chairman of Omega Schools, a chain of low-cost private schools in Ghana. He also co-founded Empathy Learning Systems in Hyderabad, India, as well as other initiatives in India and China. Professor Tooley has held a number of teaching and research posts around the world, including at Oxford and Manchester Universities. His first job was as a high-school mathematics teacher in Zimbabwe. His latest book is From Village School to Global Brand, a case study of a chain of schools originating in Lebanon in 1866, which now runs charter schools in America and public-private partnership schools in Iraq.