Jikar Khoun Mohamad
Teacher, Katsikas refugee camp

Syria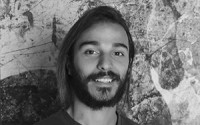 Jikar Khoun Mohamad is Kurdish from Syria. He was born in Aleppo and raised in Afrin. He studied until the ninth grade before being forced to flee to Turkey and Greece with his brothers.
He arrived in Greece in March 2016 after the borders had closed and was placed in a refugee camp in Katsikas, Northern Greece. During his time in the camp he taught himself English, helped to develop the community school and began to teach English and Arabic to the refugees and volunteers. For his effort and initiative he received certificates and trainings from Lighthouse Relief and Médecins Du Monde.
He also had the opportunity to deliver a talk on Kurdish identity, culture, and struggle for independence and self-determination to an audience of high-level UNHCR staff, volunteers, refugees and locals in Ioannina.
He hopes to be relocated to Finland with his brothers and study to become an architect.