Joke Van Der Leeuw-Roord
Founding President and Executive Director of The European Association of History Educators (EUROCLIO)

Netherlands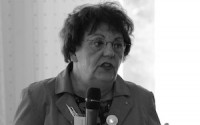 Joke van der Leeuw-Roord, Historian and Founding President, Special Advisor and former Executive Director of EUROCLIO – The European Association of History Educators received her history degree at the Groningen University, the Netherlands. She worked from 1972 till 1993 as a history teacher, teacher trainer and history advisor in the Netherlands. She was President of the Dutch history Teachers Association and editor of the Dutch KLEIO Magazine on the Learning
and Teaching of History. She from 1990-1998 the chair of the WIEG, the Committee, whichdesigned and implemented innovative national examinations for history and citizenship education in the Netherlands.
She founded EUROCLIO in 1992, and acquired recognition as an international expert on innovative and trans-national history, heritage and citizenship education. She has initiated and coordinated a multitude of national and trans-national capacity building projects for history and
citizenship educators and historians in Albania, Belarus, Bulgaria, Bosnia-in- Herzegovina, Croatia, Cyprus, Czech Republic, Estonia, Georgia, Latvia, Macedonia, Montenegro, Romania, Russia, Serbia Turkey and Ukraine. The projects were characterized by their focus on
professional capacity building, development and implementation of educational tools and the development of independent local networks and organizations promoting innovative and responsible history and citizenship education. She acts as consultant for the UNESCO, OSCE,
Council of Europe, the European Union and International Alert. She contributes through publications, lectures, workshops and advisory work during seminars, conferences and other activities to debates in the field of Cross-cultural History, Citizenship and Heritage Education.
She has written for publications by UNESCO, the Council of Europe, the Koerberstiftung, and many international journals on history and history education. She was from 2010-2016 Secretary General of the Steering Committee of the European Platform on Lifelong Learning in Brussels, Belgium.
Currently she is founding Board Member of the Europeana Network Association and Vice-President of the Europeana Foundation, the European Digital Heritage Collection and on-line platform for knowledge exchange between librarians, curators, archivists and the creative industry. member of the Advisory Board of the Georg Eckert Institute for International Textbook Research in Braunschweig, Germany; member of the Advisory Board of the Institute for Historical Culture at the Erasmus University, Rotterdam, The Netherlands. She is Editorial Board Member of the "Europe of Cultures" Series of Peter Lang International Academic
Publishers and of the Journal "Historical Encounters" and acted as Mentor for the WISE Learners Voice in Qatar. She has been decorated in 2009 as Officer in the Order of Oranje-Nassau and honoured with the Huib de Ruyter Award for Dutch History Education. In 2010 she was finalist for a WISE award. She is Honorary Fellow of the Historical Association in the UnitedKingdom and Honorary Member of the Bulgarian, Estonian and Georgian History Educators Associations.