Khadija Hamouchi
Chief Visionary Officer, The MENA Education Society

Morocco, Belgium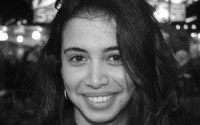 Khadija was born in Brussels (Belgium) of Moroccan parents. As a little girl, she has dreamt of becoming a Teacher and then a Head Teacher. She used to attend school 7 days a week, 5 days in mainstream Belgian public school and the week in an Arabic community school. During her teenage, she advocated for education and promoted knowledge in various creative and daring ways. Her unconditional love for education has never left her.
After a discovery travel through the MENA region, her life mission became clearer: leverage education for the uncountable talented youth and children she met.  She has also had the opportunity to lecture groups of talented teachers in the Arab World. An unforgettable experience for her.
Khadija combines three mind-sets: an academic, social entrepreneur, and artist at heart. She completed her Bachelor Degree in Belgium and the Netherlands. She then completed a Master Degree of Education in the UK. She has been selected for an Executive Education Programme in Leadership, Business, and Innovation at the Graduate School of Business at Stanford University, USA.
A keen learner, she has been also selected in the WIEF Young Leaders Programme. She has recently won the award of the most-intrapreneurial project of the African Entrepreneurship Award.
In her spare time; she writes poetry, joins a Dabke dance group, and enjoys travelling the world. She is also currently working on establishing the Belgian Office of World Merit organisation, to give her fellow compatriots the opportunity to expand their professional horizons.
Reach her @ www.khadijahamouchi.com
Tweet her @TheEduAgora