Mr. Khozema Z Shipchandler
Vice President and Chief Financial Officer for the Middle East, North Africa and Turkey of General Electrics Global Growth & Operations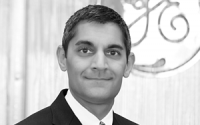 Khozema Z. Shipchandler is the Vice President and Chief Financial Officer for GE Middle East, North Africa and Turkey. He is responsible for driving operating excellence, growth, presenting timely financial information, undertaking economic forecasts and budgeting, 
Khozema joined GE Money's Management Development Program in 1996. The following year, he joined GE Plastics' Financial Management Program where he worked in various roles across the business.   
In 2000, he joined GE's Corporate Audit Staff where he spent six years, spending his final two as an Executive Audit Manager where he oversaw the Aviation, Transportation and Consumer and Industrial businesses.