Ms Lin Zhou
Journalist, China Today

China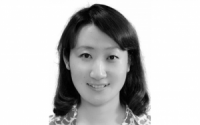 Lin Zhou currently works as a journalist, an editor, and a translator for China Today, a multiple languages periodical published in eight editions, including Chinese, English, French, Spanish, Arabian, German, Turkish, and Portuguese, now issued in over 150 countries and regions globally. The publication covers a wide range of themes including economics, politics, culture, society and ecology, and presents viewpoints on China's reform and development, and foreign affairs. She is now responsible for columns of Foreign Diplomats on China, Society & Culture, and Book Review, and is especially keen on communications between eastern and western cultures. Her reports try to present us a developing China vividly through individual stories. 
She received her bachelor's degree in Education and English Literature, and then her master's degree in Educational Policy Analysis, consecutively from Beijing Normal University. She has a plentiful experience in cooperative programs with the Chinese government and international organizations, which forms her in-depth thinking on China's current education in accordance with diversified circumstances. She has taken part in such investigations and studies as the Mid-term Assessment of the Education Planning, Management, and Monitoring of the Education and Child Development Program —"Narrowing Education Gap through Policy Planning and Surveillance" jointly held by UNICEF and the Ministry of Education in China; Theory and Institution Study on the Compulsory Education Policy for Migrant Children, Study on the Innovation of School Institution,and Teachers Training Program on Environment Protectoin  sponsored by GE Foundation.
An occupation as a journalist now provides her with a more neutral perspective on China's creative education in an era brimming with both opportunities and challenges.