Mr. Luis Szaran
Founder and Director, Sonidos de la Tierra

Paraguay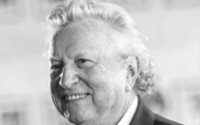 Luis Szarán is an orchestra director, songwriter, musicologist and social entrepreneur. He studied music in Asunción and in the Conservatory of Saint Cecilia in Rome, perfected his studies at the Colon Theatre in Buenos Aires, in the Chigiana Academy of Siena and in Bayreuth, Germany. In 1990 he became director of the Symphonic Orchestra of the City of Asunción and artistic director of the Zipoli Ensemble of Venice, Italy. He directed more than 2,000 concerts around the world, most of them with prestigious orchestras of South America, the United States and Europe.
In recent seasons, the Symphonic Orchestra of Berlin, the Symphonietta of Paris and the Philharmonic Orchestra of Venice premiered his compositions. In 2002 he was the first Latin American songwriter to be awarded the Vivaldi Medal at the International Festival of Venice. For his work in culture, he received numerous national and international awards and recognitions such as Official Knight of the Republic of Italy, "National Order of Arts and Letters" by the Ministry of Culture of France, Orbis Guaraniticus by UNESCO, and National Order of Merit in the degree of Commander by the Republic of Paraguay. He is member of the Real Spanish Academy of History and was declared Master of Art by the Paraguayan National Congress. In 1997 he was selected as one of the eight most successful Paraguayans by the National Workers' Bank.
In 2002 he founded Sonidos de la Tierra, one of Paraguay's largest and most influential social programs. For this masterpiece, he received numerous prizes and awards such as the "Skoll Award for Social Entrepreneurship" (2005), second best social responsibility project of the world by HSBC Foundation (2008), the "Ovenbird Award" for being a model social entrepreneur by Rotary Club, "Constructor of Peace Award" by the White Flag Association (2013), "Innovation, Creativity and Scientific Investigation Medal" by the Paraguayan Congress (2013), UNESCO's "Silver Eye" Award for the best social responsibility experience in Latin America and the Caribbean in five categories: patrimony, citizenship, education, equality and environment, and Schwab Foundation's "Social Entrepreneur of the Year 2014 Award", among others.