Mariam Al-Dhubhani
Independent Journalist, Filmmaker, Curator and Educator

Yemen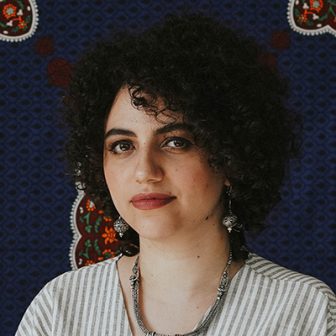 Mariam Al-Dhubhani is a Yemeni-Russian award-winning journalist, filmmaker, curator, and educator based in the MENA region. 
She first pursued her passion for media during the 2011 Arab uprisings and co-founded her first media production.  She is a two-time TEDx speaker and one of the first directors to utilize virtual reality to highlight stories from Yemen.  Al-Dhubhani holds a Bachelor's degree in Journalism and Strategic Communication from Northwestern University, 2019, and a Post-Graduate Diploma in Museum and Gallery Practice from University College London, 2020. 
In addition to grossing several awards for her films, she was awarded Most Promising Filmmaker at the Toronto Arab Film festival in 2019 for her film, In The Middle.  Through her work, Mariam attempts to shed light on the dangers of stereotyping the region in the mainstream media and provides a counter viewpoint to showcase equality in humanity.  Her feature debut, Let's Play Soldiers, is a part of the Close Up Initiative. Al-Dhubhani has provided mentorship and training to support young filmmakers in conflict areas, including Yemen and Libya. Currently, she serves as a consultant on a Hollywood production film on Yemen.