Moiz Lakhani
Student, McMaster University

Canada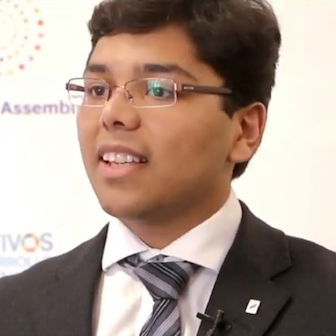 Moiz Lakhani, an IB graduate, is pursuing a Bachelor of Health Sciences at McMaster University. He has a 2nd degree Black Belt in Jiu-Jitsu and represents Canada in international tournaments. He is a 3x NAGA World Grappling Jiu-Jitsu Champion, and a 1x National Kickboxing Champion.
Moiz has a profound passion for giving back to his community, working towards the SDG's. Moiz was the youngest winner of the first Youth Assembly Impact Challenge. He was awarded seed funding, mentorship and a platform to begin his social venture, Ninja Girls. Ninja Girls aims to teach self-defence to girls in developing nations to help them combat sexual/physical abuse. He is currently working with international mentors, as well as the Friendship Ambassador Foundation for the implementation of his project in developing nations.
Moiz is also a part of the RCMP (Royal Canadian Mounted Police) National Youth Advisory Committee to discuss youth crime and victimization. Feedback from the committee helps the RCMP to develop effective youth strategies. Moiz is also an Impact Coordinator for Friendship Ambassadors Foundation, and in 2017 he was an ambassador for the United Nations Association of Canada. Moiz has received many awards for his outstanding community contributions.