Oriol Pueyo Muñoz
Global Assistant Brand Manager, Unilever

Spain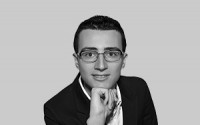 Oriol was born in Barcelona, and at the age of 10 was diagnosed with dyslexia. Specialists did not believe he could ever finish secondary education, but his early struggles and frustration with the educational system empowered him to search for new ways to improve the state of the world's education.
At 17, Oriol created his first Start-Up, Speed Racing Studio. He learned 3D design of virtual circuits for professional simulator machines. One project was used at a promotional event of the brand Tag Heuer where Lewis Hamilton ran a virtual race.
During his first year studying Business Management at Pompeu Fabra University, he created his second company; The Dyslexic Reader Project, a new technique to improve reading comprehension of dyslexic people. He also participated in his university's Debate and Entrepreneurship Societies.
He was selected to participate in talent programs from Google, Unilever, Procter & Gamble and Banco Santander, and was appointed by Barcelona City Hall to represent Catalan university entrepreneurs in the Parliament of Catalonia.
Oriol is currently living in London where he works as a Global Assistant Brand Manager at Dove, Unilever. Through WISE, Oriol hopes to address some of the world's grand challenges in education.