Patrick Pouyanné
Chairman of the Board and Chief Executive Officer, Total SA

France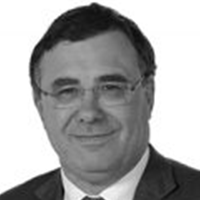 A Graduate of Ecole Polytechnique and Chief Engineer of the French Corps des Mines, Patrick Pouyanné held various positions in the French Industry Ministry and in ministerial offices from 1989 to 1996, including Environment and Industry Technical Advisor to the Prime minister (E. Balladur) from 1993 to 1995 and Chief of Staff to the information technology and space minister (F.Fillon) from 1995 to 1996.
He joined Total in January 1997, as Chief administrative Officer of Total E&P Angola and became Group Representative in Qatar in 1999.
In August 2002, he was named Senior Vice President, Finance, Economics and Information Systems in Exploration & Production, then Senior Vice President, Strategy, Business Development and R&D in Exploration & Production in 2006.
In January 2012, Patrick Pouyanné was appointed President, Refining & Chemicals and member of the Executive Committee.
On October 22, 2014, the board of directors of Total appointed him Chief Executive Officer and President of the Executive Committee.
On May 29, 2015, he was elected as Member of the board of directors of Total.
On December 16th, 2015, Total's board of directors appointed Patrick Pouyanné as Chairman of the Board and Chief Executive Officer of Total.
Patrick Pouyanné is a Knight of the Legion of Honor.