Rokaya Hussain
Director General of Educational Projects, Alnowair AlKuwaitiya Co.

Kuwait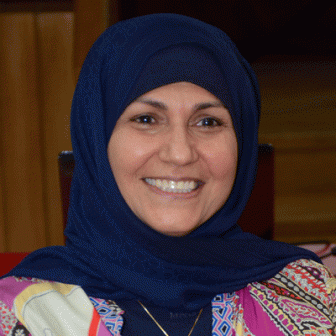 Thriving by Learning and Positivity for a Brighter Future is Rokaya Hussain's vision. This vision is guided by Empowering Youth to Become Competitive and Productive Members Through Implementing Projects Targeting Creative Human Capital. Ms. Hussain was a former Educational Zone Director General in the Ministry of Education, Kuwait, with Extensive Experience in Teaching, Learning, Training, Mentoring, Supervising, Curriculum Developing, Strategic Planning, Recruitment and Promotion Interviewing. Currently, she is the Director General of Educational Projects in Alnowair Co. Ms. Hussain got her master's degree in business administration from the College of Business Sciences, Kuwait University. She also majored in English Literature, and got her bachelor's degree from the Faculty of Arts at Kuwait University. She co-authored "400 Years of Kuwait", a bilingual book that journeyed through history back to the 17th century of Kuwait. 
Ms. Hussain is a columnist, she aims to seed positivity wherever she is for the betterment of life.