Ms Sally Osberg
President and CEO, Skoll Foundation

United States of America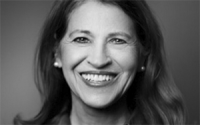 Sally Osberg has led entrepreneurial organizations and been an agent for social change throughout her career. As President and CEO of the Skoll Foundation, she partners with Founder and Chairman Jeff Skoll and heads the organization's team in identifying and supporting innovators pioneering scalable solutions to global challenges. She is a well-known proponent of thought leadership, research, and alliances that advance the work of social entrepreneurs solving the world's most pressing problems.
In 2015, she co-authored Getting Beyond Better: How Social Entrepreneurship Works with Roger Martin. Together, she and Roger received the Thinkers50 Social Enterprise Award.
Currently, Sally serves on the boards of the Skoll Foundation, the Skoll Global Threats Fund, the Oracle Education Foundation, and the Palestine-based Partners for Sustainable Development. She was founding Executive Director of Children's Discovery Museum of San Jose, guiding that institution to international recognition for its cutting edge work in the museum field, and was formerly active as a director on the boards of the American Association of Museums, the American Leadership Forum, and Women and Philanthropy, among others.
She founded the Skoll World Forum on Social Entrepreneurship, the largest gathering of innovators around the world. As Advisor to The Elders and Founding Board Member of the Social Progress Imperative and Index, Sally has worked to drive an enabling environment for social change. She has also formed strategic partnerships with the UN, USAID, Sundance, TED, and the Skoll Centre for Social Entrepreneurship in the Said Business School at Oxford University, and is an advisor for the External Reference Committee for the Government of Australia's aid program.
Sally has received the John Gardner Leadership Award from the American Leadership Forum, the Magis Global Changemaker Award from Santa Clara University, been inducted into the Junior Achievement Business Hall of Fame, been named by the San Jose Mercury News as one of the "Millennium 100" for her role in shaping and leading Silicon Valley, and is one of the NonProfit Times Top 50 Power and Influence awardees.