Mr. Santanu Bhattacharjee
Founder, Director of Technable Solutions Pvt. Ltd.

India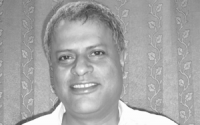 Santanu Bhattacharjee is Founder-Director of Technable, an acclaimed social enterprise in the field of education. Since 2005, Technable has developed an end-to-end "livelihood through skills" process yielding an 80% placement rate. He has been featured as one of the top 50 social entrepreneurs in India, accorded the 2010 Social Enterprise Leadership Award (International), given the 2009 Sankalp Social Ennterprise Award for excellence in education business, and selected for publication and presentation at the ITU World Telecom 2011, Geneva. Previously, Santanu's 15-year experience in the ICT industry in the USA ranged from solution development and implementation to corporate management and entrepreneurship. He holds an MS in Computer Science.