Sashwati Banerjee
Managing Director, Sesame Workshop India

India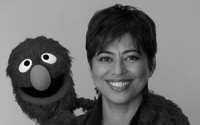 Sashwati Banerjee leads Sesame Workshop's educational mission in India to create innovative and engaging content that maximizes the educational power of all media to help children reach their highest potential.
 
As Founding Managing Director of Sesame Workshop India, Banerjee spearheads Galli Galli Sim Sim, a multiplatform initiative that combines the power of media with educational outreach to prepare children for school and life. Under her leadership, the organization has developed and implemented highly innovative programs that have a demonstrated impact on children's educational and developmental outcomes.
 
A visionary leader, Sashwati Banerjee believes that creativity in communication can bring about transformational change in society. Sashwati Banerjee was instrumental in designing programs that use innovative delivery platforms that addresses the needs of over 18 million children in India each year.
 
In order to meet the growing demand for high-quality preschool education, Sashwati Banerjee launched Sesame Street Preschools in India. Her leadership in developing and overseeing these initiatives set the framework for Sesame Workshop India's sustainability strategy and drives the mission to promote lifelong learning.
 
Ms Sashwati Banerjee is deeply committed to human rights and serves on the Board of Point of View, an organization that promotes the points of views of women using media, arts and culture, and CREA, a feminist human rights organization based in New Delhi, India.
 
When she is not working, Sashwati Banerjee loves to travel, read and explore new cuisines and cultures.