Shabnam Safa
Student, Swinburne University of Technology

Australia, Afghanistan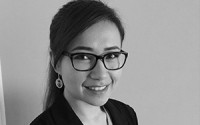 Shabnam was born in Afghanistan and raised as a refugee in Pakistan until she migrated to and called Australia home at the age of 15.
Having been a refugee, Shabnam empathises with those struggling with that reality. She strives to encourage more youth from migrant and refugee backgrounds, especially women, to get involved in their communities and pursue their passion, specifically in sports. Shabnam herself has won several National and International Karate championships, and was the City of Casey: 2014 Sportsperson of The Year.
Shabnam firmly believes in volunteering and giving back to the community. Former youth ambassador to her local council and a Government advisor, she volunteered for six months in rural India at a disadvantaged school and helped children with their education and skills development. Shabnam proudly represented Australia at the 2014 UN Alliance of Civilization Leadership Program in New York, USA. She is also a co-founder and the inaugural president of Noor Foundation, a not for profit organization established to help newly arrived refugees and migrants settle in Australia and to provide a platform for young people to leave a positive impact.
She is currently completing her BA of Biomedical Science.