Shevika Mishra
Senior Associate, Ashoka - Innovators for the Public

India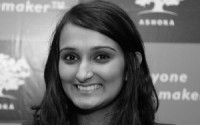 Shevika grew up in Mumbai and has been excited about the education sector since she attended St. Xavier's College to pursue a BA of Economics. She first volunteered with a grassroots NGO called CHIP (Children In Progress) which aims at providing quality education in government schools across Mumbai.
After graduating, Shevika moved to work at a low-cost private school in peri-urban Bangalore where she set up a library and developed  teacher training programs for a year moving to Uganda to work with Village Energy where she worked to develop a solar powered tablets to empower youth with basic computer skills and entrepreneurship development. In 2014, Shevika returned to India to join Ashoka's Health & Nutrition initiative, which helps children to take charge of their nutrition and that of their communities. She now works on Ashoka's Changemaker Schools initiative to identify, connect and support innovative schools around the world that are empowering young people by teaching them core skills such as empathy, teamwork, leadership and creative skills. She also leads the Search, Selection and Engagement of Changemaker schools in South Asia.
Shevika is passionate about gender equity and hopes to develop a program to end gender inequity in schools.