Mr. Steven Anderson
Education Consultant, Web20Classroom​

United States of America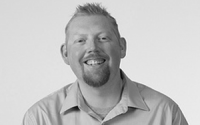 Steven W. Anderson is an education consultant at the  Web20Classroom. He is​ the former director of instructional technology for the Winston-Salem/Forsyth County Schools in Winston-Salem, NC. He also regularly travels the country talking to schools and districts about the use of Social Media in the classroom.
Steven has been a presenter at several educational technology conferences, including ISTE, ASCD and NCTIES, as well as served as a panelist at the #140 Conference in Los Angeles, New York and was a featured speaker at the first ever #140Edu Conference, focusing on the real-time web in education. He is also responsible in helping create #edchat, a weekly education discussion on Twitter that boasts over 500 weekly participants. Steven has also been recognized with the NOW Award, highlighting the Movers And Shakers in the world of social media and the 2009 and 2011 Edublogs, Twitterer of The Year Award. In 2012 he was named an ASCD Emerging Leader, recognizing young, talented educational leaders in their field. 
Steven holds a Bachelor of Science in Middle Grade Mathematics and Science Education from Western Carolina University and a Master of Arts in Education in Instructional Technology from East Carolina University.