Ursula Baïgorria Köppel
Planning and Development Lead, Fundación Mi Sangre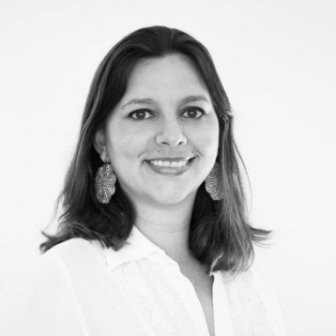 Ursula Baïgorria Köppel majored in Anthropology and minor in Global Poverty and Practice from UC Berkeley and was awarded an honorable mention to the McCown Prize, which is awarded every year to the most outstanding anthropology student of the graduating class. Ursula later attended the University of Oxford's Refugee Studies Centre, where she completed an MSc in Refugee and Forced Migration Studies. While at Oxford, Ursula's research focused on the dynamics of mixed migration through South America. After completing her studies, Ursula worked on economic, social and cultural rights at the OHCHR Regional Office for South America in Santiago, Chile. There, she worked to promote the rights of indigenous communities and the LGBTI+ community, as well as those of youth with a special emphasis on gender and diversity issues.
After longing to return to her home country, Colombia, she started working with the local government of Medellín on issues related to victims of the armed conflict, particularly internally displaced persons. While at the Mayor's Office, she became increasingly interested in transitional justice and peacebuilding, and had the opportunity to steer the design and coordination of Medellín's peacebuilding strategy for over 3 years.
Currently, Ursula is the Leader of Planning Development at Fundación Mi Sangre, founded by Multi-Grammy Award Winner Juanes, and social entrepreneur Catalina Cock, who also acts as Executive Director. Fundación Mi Sangre, has been working on empowering children and youth with an emphasis on peacebuilding in Colombia for over 13 years. Additionally, Ursula holds an Adjunct teaching position at Universidad Pontificia Bolivariana, and in her free time conducts academic research, which have been published as articles and book chapters on issues relating to forced migration and peacebuilding.