Varsha Thebo
Leadership Resident, The Harpswell Foundation

Pakistan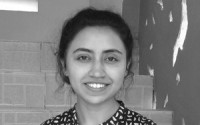 Varsha comes from a small town in the Sindh province of Pakistan. She was home-schooled for the most part where she taught herself English and Mathematics. Battling with the ghost schools and yet bagging a scholarship to study in the United States, she made her way to get where she is today. She is studying Public Health and English Literature at a liberal arts women's college in the United States called Agnes Scott. Varsha happens to be the one and only recipient of the Global Leadership Scholarship.
She has had an experience of working with various NGOs in both Pakistan and the United States, such as Pakistan Institute of Labor Education and Research, Minorities Rights Watch, United States Educational Foundation of Pakistan, Centre for Peace and Civil Society, Bhitai Dental and Medical College, The Global Village Project and the Refugee Women's Network. She also started a small study circle for young girls in her village where she gave them weekly lessons in reading and writing. Her interests range from organizing reading clubs in her hometown to setting up medical camps in the rural areas of Sindh.
Currently, she is working on her project in Cambodia as a Leadership Resident at The Harpswell Foundation. Through her project, Varsha encourages young women to write their life stories. She plans to compile those stories into a magazine for the organization. Varsha recently won a United Nations Academic Impact/UNHATE Foundation joint award for her project to promote interfaith harmony in Umerkot Pakistan. Her year-long project was the only one to be selected from Pakistan and is one of the ten in the world. Varsha starts working on the Global Health and Human Rights project at the United States Centers for Disease Control and Prevention in September.
She is a strong advocate for female education and wants to pursue her Masters in Education Policy in the near future.